VoidSquare is a FourSquare app with the following complementary features:
allows you to hide venues from the nearby list that are not relevant, so you can concentrate on the ones that really matter. Never gonna visit that particular venue? Take it away from the list, so it can stay clean of distractions.

after a daily checkin, the venue gets hidden from the main list (or marked as green in other views), so you don't checkin twice on the same place and on the same day.

shows you a lot more venues, sorted by distance, and limited on the main list to 1000 meters, and marks as gray the ones above 300m.

tells you how long to wait if you do three checkins in fifteen minutes, or how many checkins done on the last twenty-four hours, so you don't cross the three per fifteen minutes or the thirty checkins per twenty-four hours limits.

allows you to jump back to the foursquare client to do the checkin (or do any other action), per venue, of always (option on the settings view).

the "venues" shows the sanitized list without hidden venues, checked in venues, or more than 1000 meters. - the "todo" shows your FourSquare To-Do list.

the "all venues" shows all nearby venues including the hidden ones (red), the checked in ones (green), and without the 1000 meter limit, so you can unhide red hidden venues.

the "search" allows to search venues.

for the ones that do checkins while driving, VoidSquare allows to pick one or more nearby venues and enable auto-checkin, which only happens when above 30KM/h and below 300m.
Note: continued use of GPS can dramatically increase battery consumption. VoidSquare stays running until all auto-checkin venues are finished.
Note: cheating FourSquare is not condoned by this app!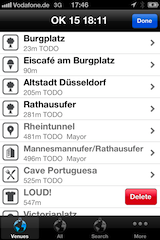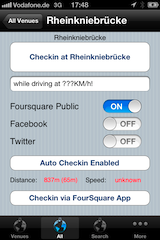 Buy on iTunes | Support and Feedback | VoidSquare at FaceBook | VoidSquare 1.0 at FaceBook | VoidSquare at FourSquare
---

VoidSquare é uma applicação para o FourSquare com as seguintes funcionalidades complementares:
permite retirar venues da lista de venues perto de si, para que se possa concentrar nas venues que realmente importam. Existe uma venue que nunca irá visitar? Remova-a da lista e mantenha a lista limpa de distracções.

depois de um checkin diário, a venue desaparece da lista principal (ou é mostrada verde nas outras listas), para que não faça checkin múltiplas vezes no mesmo dia.

mostra-lhe muito mais venues, ordenadas por distância, e limitada na lista principal por venues abaixo de 1000 metros, e com as venues a mais de 300 metros marcadas a cinzento.

mostra-lhe até quando têm de esperar caso faça três checkins em quinze minutos, ou quantos checkins já fez nas ultimas vinte e quatro horas, para que não passe os limites de três checkins por quinze minutos ou o limite de trinta checkins por vinte e quantro horas.

permite-lhe optar por usar o cliente FourSquare oficial para fazer o checkin (ou qualquer outra opção), quer directamente venue a venue, quer sempre (opção nos settings].

o "venues" mostra a lista limpa de venues escondidos, já feito checkin hoje, ou a mais de 1000 metros.

o "todo" mostra a sua lista "To-Do" do FourSquare.

o "all venues" mostra todos os venues perto de si incluindo os escondidos (a vermelho), os já feito checkin hoje (a verde), e os a mais de 1000 metros, para que possa recuperar os venues escondidos (vermelhos).

o "search" permits procurar venues.

para quem faça checkins enquanto conduz, o VoidSquare permite-lhe escolher um ou mais venues para fazer auto-checkin, o qual irá acontecer quando estiver a uma velocidade acima de 30KM/h e a menos de 300m de distância.
Nota: o uso contínuo do GPS pode aumentar dramaticamente o consumo de bateria. O VoidSquare mantêm-se a correr em background caso exista algum auto-checkin activado e apenas até todos esses auto-checkins serem finalizados.
Nota: esta aplicação não tem como objectivo fazer batota no FourSquare.
Comprar no iTunes | Suporte e Feedback | VoidSquare no FaceBook | VoidSquare 1.0 no FaceBook | VoidSquare no FourSquare