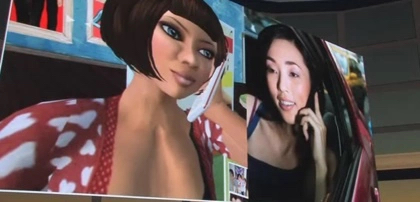 The cat is out of the bag! Vodafone InsideOut on SecondLife.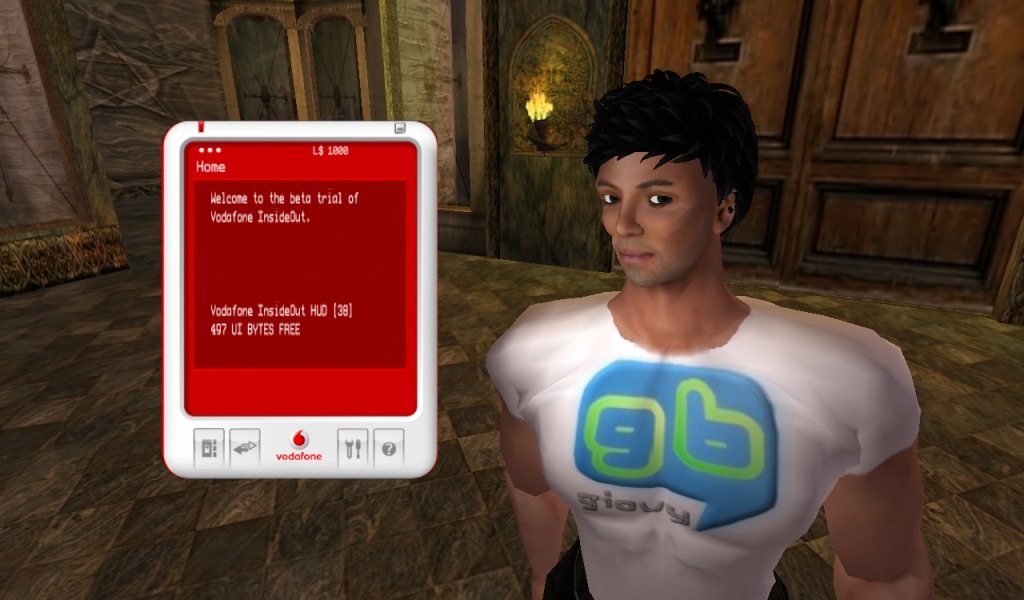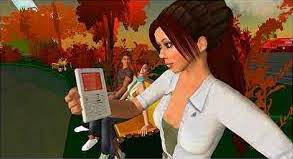 ---
As stated on the Vodafone InsideOut website…
What does it cost?

The phone itself is free: to get your hands on one, just register on the Vodafone InsideOut island in Second Life. Any usage of Vodafone InsideOut initiated from Second Life is free-of-charge until 31st March 2008. Afterwards all messages and voice calls initiated inside Second Life may be charged up to 300 L$ per minute/message. Any usage from your mobile phone calling into Second Life is charged according to your tariff plan of your chosen telco provider.

To protect your privacy, virtual phone numbers are assigned to your communication (so your real number is never shown to anyone). Our virtual numbers are currently taken from a pool of German numbers (starting with +49), so for now, any outgoing calls or texts from your real phone to Second Life will be charged as a call or text to Germany (or within if you are German). These costs are charged by your mobile phone provider, not Vodafone.

Messages that you receive to your real mobile phone from Second Life will be free, unless your provider asks you to pay for receiving messages or calls (this is the case in the US, but not in most of Europe).

Vodafone InsideOut is currently offered as a beta trial with no guarantees of full availability until 31st March 2008 Please be aware that Vodafone InsideOut cannot be supported by any Vodafone helpdesks during that beta trial.
…so this is a beta service and won't be supported by your regular helpdesk line, so feel free to ping us on the official blog or leave a comment. (unrespectful or off-topic comments here will be deleted and prosecuted without merci)
The original post will continue to be used to collect the first handful of links pointing to our service.
---
From our blog.secondlife.vodafone.com
Update 2007-10-01:
Greetings from Vodafone InsideOut
Hi there,

Thanks for taking a look at our blog. We'll be using this space to post announcements and updates about Vodafone InsideOut and to tell you about the latest events taking place on the Island. And of course, if there are any other exciting developments, we'll keep you posted.

You'll hear announcements from all the teams involved in this project, so pop back soon.

In the meantime, if you have any comments or questions, you can email our innovation team at second.life[at]vodafone.com.
---
Update 2007.10.02: launch party tomorrow, the 4th, at 17:00-21:00 GMT / 18:00-22:00 BST / 19:00-23:00 CEST:
Join us for our launch party with DJ Jenns
Hello again.

We're having some fun on the Vodafone InsideOut island during our launch week (October 1st to October 7th), and we'd like you to come and join us!

We're hosting a launch party on Thursday October 4th. The Second Life renowned DJ Jenns will be on his decks from 18:00 - 22:00 UK time, that's 10:00 - 14:00 Second Life time. You can make music requests by sending DJ Jenns a text message using Vodafone InsideOut. Find the party on the border of the Vodafone Islands.

We've also hidden treasure chests all around the island, which have special goodies hidden in them as well as some L$ prizes as well. All you have to do is go in and find them. They'll be hidden in new places and refreshed with new prizes everyday! In order to redeem the prizes, you'll need to subscribe to the service (which only takes a couple of minutes) and you can do that right here on the website.

Enjoy!
---
Update 2007-10-10:
Issues with HUD Activation in some countries
In a perfect world everyone would be able to communicate with everyone else, independently of technicalities like communication protocols, network formats and the standards being used.

Unfortunately we're not living in a perfect world.

If you try to activate your Vodafone InsideOut HUD and never receive an SMS on your real mobile phone, or if you do receive it but the reply you sent never received another reply back, help us helping you and tell us about it.

Please leave a comment here stating your experience. If you feel comfortable with it, leave your Second Life user name (but never leave your mobile number). Tell us as much as you can about your country and operator (e.g. is it GSM or other kind of network; what is the operator; did it fail on the first SMS or the second one; do you also have issues with mobile to mobile connectivity; etc.), so we can trace back and check the reasons.

Currently we have an half a dozen countries with confirmed failure while delivering the SMS's, which we're already taking care of, but we still need your help to identify further countries or operators.

Thanks in advance for your help.
---
Update 2007-10-11:
FREE calling and text message
Hi there,

Just a quick note to say thank you to everyone who has signed up so far, the response has been great and we've been told that many of you are finding it easy to use and useful!

We'd also like to clarify some questions we've been having regarding the costs for using the service.

Until November 30th when you initiate calls and text messages from within Second Life, all calls and text messages are free-of-charge - we may extend this period of free calls and texts if you're all enjoying it, so please feedback any comments you have!

For more information, please check out http://secondlife.vodafone.com/cost.aspx.
---
Update 2007-10-15:
New users Welcome
The Team would like to welcome the new users from Norway, Austria and Greece to the Vodafone InsideOut network. Welcome aboard!

We would also like to thank the users from the following countries that are successfully using the Vodafone InsideOut HUD:

North America: USA (GSM networks); (*)

Africa: Egypt;

Europe: Greece, Netherlands, Belgium, France, España, Portugal, Ireland, Finland, Hungary, Ukraine, Serbia, Slovenia, Italia, Romenia, Czech Republic, Austria, United Kingdom, Sweden, Norway, Polan and Deutschland;

Latin America: Brazil (GSM networks);

Southeast Asia and Oceania: Australia, New Zeland, Philippines and Thailand;

Russia: Russia;

East Asia: Japan, South Korea and Taiwan;

West, South and Central Asia, Middle East: Turkey and Israel;

The following countries are known to have some issues on the SMS subscription:

North America: USA (non GSM networks, in process of being solved);

Latin America: Brazil (non GSM networks), Peru and Argentina;

East Asia: Japan (non GSM networks) and South Korea;

If you are from one of the problematic countries/networks and have successfully used the Vodafone InsideOut, we'd like to hear your success story.

To all of you, a big thank you for you participation.

To all other countries, we're waiting for you.

Thank you all.

The Vodafone InsideOut Team.

(*) aren't there Second Life users in Canada, or am I wrongly interpreting the +1… number plane division between USA and Canada?
---
Update 2007-11-30:
Beta Extended till 31st March 2008!!
Thank you for your support, we hope you are having fun using Vodafone InsideOut.

We are officially extending our beta till 31st March 2008. This means you can continue use Vodafone InsideOut free till then.

We would love to hear from you should you have any comments or feedback. Just leave your comments on this blog.

Meanwhile, continue to have fun!
---
Update 2008-05-13:
Beta trial ends
Thank you for your support during our Beta trial phase. We hope that your experience with Vodafone InsideOut has been an enjoyable & fulfilling one. Most importantly, it has enriched your communication experience, helping you to Make the Most of Now!!

We are now officially ending the Beta trial. Please feel free to check this Blog for further updates. Meanwhile, we would appreciate your thoughts and feedback on Vodafone InsideOut…
---
Links
2007.12.29
2007.12.14
2007.12.12
2007.12.10
2007.12.09
2007.12.08
2007.12.04
2007.12.02
2007.11.31
2007.11.29
2007.11.27
2007.11.26
2007.11.24
2007.11.23
2007.11.22
2007.11.21
2007.11.20
2007.11.19
2007.11.16
2007.11.15
2007.11.14
2007.11.13
2007.11.09
2007.11.08
2007.11.06
2007.10.30
2007.10.26
2007.10.20
2007.10.15
2007.10.12
2007.10.10
2007.10.09
2007.10.08
2007.10.07
2007.10.06
2007.10.05
2007.10.04
2007.10.03
2007.10.02
2007.10.01
2007.09.14
2007.09.12
2007.09.11
Bookmark Sites